Drag performer Jazzmun appears as Alberta, formerly Albert, an old friend of Pops and a member of The Temptones, in the episode "Return of the Temptones", in season 3.
Vital information
Birthname:
Nichalo Dion Crayton
Gender:
Male
Born:
February 10, 1969
Occupation/
Career:
Actor, Drag Performer, Singer
Years active:
1984 - present
Character information
Appeared on:
The Wayans Bros.
Episodes appeared in:
Return of The Temptones in Season 3
Character played:
Albert/Alberta
Jazzmun is the stage name] of Nichcalo Dion Crayton ("Nic"), an actor and nightclub performer specializing in female impersonation in the Los Angeles area. He appeared in the episode Return of The Temptones in Season 3 as one of Pops's old singing group buddies, Albert/Alberta, who was a member of The Temptones, who gender transitioned. }}
About Jazzmun
Originally from San Diego, California, Jazzmun made his first national television appearance on the talent variety show Puttin' on the Hits in 1984 in which he split his body half in male drag and half in female drag, lip synching as a "duet". Finding work immediately after that appearance for his theatric and modeling talents, he moved to Los Angeles and secured an agent. Since then Jazzmun has performed all over the world performing as either his stage character Jazzmun, his trademark Whitney Houston which he performed as in the female stage revue La Cage, Grace Jones or any number of other characters.
In the late 1990s, Jazzmun co-starred in the stage play
Ask Any Girl
as the character Mahogany Saint Ross, a name play-on-words to singer Diana Ross. Latina singer Gloria Estefan hired Jazzmun to perform in the music video of her remake hit
Everlasting Love
after seeing one of Jazzmun's performances.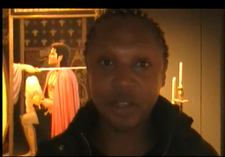 Later, drag icon RuPaul hired Jazzmun to also perform in his music video A Little Bit of Love which spoofed drag queens as aliens out to conquer the world. Jazzmun then released two of his own dance singles in 1997 on the Aqua Boogie label: "I´m Gonna Let You Have It" and "That Sound, That Beat". Later he produced another hit 2 Tired 2 B Shady, which was later featured in Patrik-Ian Polk's highly anticipated and accomplished show Noah's Arc.
External links