Nate Williams as played by actor Antonio Fargas in the episode titled "Family Business" in Season 3.
Vital information
Gender:
Male
Occupation/
Career:
Short order cook and "roach coach" sidewalk vender
Character
description:
Seen as somewhat irresponsible by big brother Pops, Nate seeks to prove to him that he can be as successful as him at the restaurant business
Related to:
John "Pops" Williams (brother)
Shawn Williams (nephew)
Marlon Williams (nephew)
Character information
Appeared on:
The Wayans Bros.
Episodes appeared in:
in episode titled "Family Business" in Season 3
Character played by:
Antonio Fargas
Nathaniel "Nate" Williams is the younger brother of Pops Williams and the uncle of Shawn and Marlon Williams. He appears during the third season of The Wayans Bros., in the episode titled Family Business, and is played by veteran actor Antonio Fargas, of 1970 blaxploitation films and ABC-TV's Starsky & Hutch TV series fame.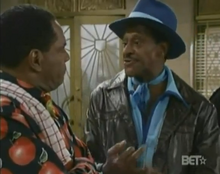 Depicted as somewhat of a mooch and a little irresponsible, at least by Pops, little brother Nate returns to New York City to visit Pops, Shawn and Marlon, and to hit up Pops for a cash loan to help jump start his own restaurant. In the Family Business episode, Nate winds up purchasing a vending van, using it to start a "roach coach", which he parked across the street from the Neidermeyer Building, putting it direct competiton with Pops's business! The two brothers wage war, and it even causes Marlon, who was fired from the newsstand after a fallout with Shawn, to side with Nate, which made Pops and Marlon angry enough to spy on them, wearing trench coat and hat, to check out the competition. After a confrontatious tussle in the van, which crashes into the diner, Nate who was insured, is able to pay Pops (who wasn't) and Shawn for the damages to the diner wall and newsstand, and is able to move across the river to New Jersey when the van is repaired.
Community content is available under
CC-BY-SA
unless otherwise noted.